Since the Favorite Foto Friday theme this week is 'stuffed animals' I have decided to skip the theme. My babies are only a 2 year old and a 7 mo old, so we really don't have many stuffed animals. I am not a huge fan of stuffed animals anyhow and toss them out whenever Landon is not looking! Instead I have decided to blog about Landon's trip to Toys R Us. As I have blogged before my husband's entire family lives in FL. We don't see them as often as we would like to, but try to stay in touch with phone calls and pictures. For Landon's birthday his Nana and Poppy (Travis' mom and step-dad) sent him some money for a Toys R Us trip. Well, we went this week and had so much fun! My little man is definitely growing up and knows exactly what he wants...EVERYTHING! LOL, here are a few pictures from our afternoon trip to Toys R Us!

On the hunt for the perfect birthday toy~



Oooohhh, maybe a huge stuffed friend...or two!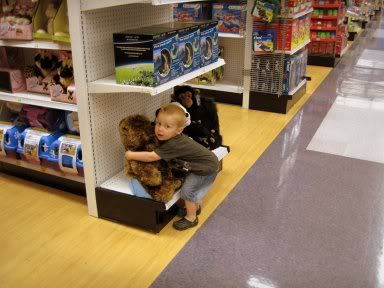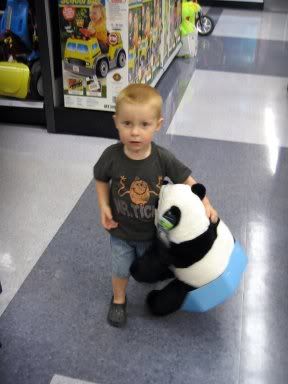 Oooohhh, maybe a new Elmo potty seat!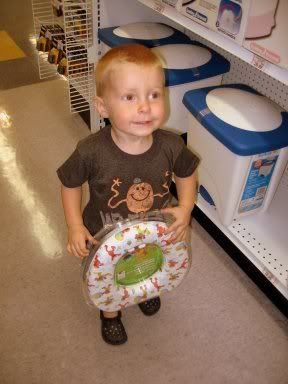 I know! A NEW BIG BOY BIKE!!



Look at me Mama!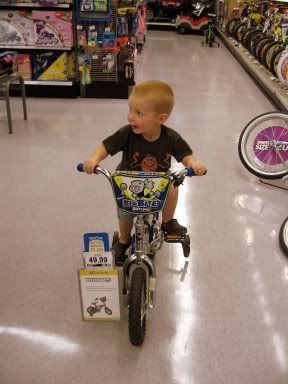 I want this one!


Just look at that HUGE smile!

Oh, and a drink for the road!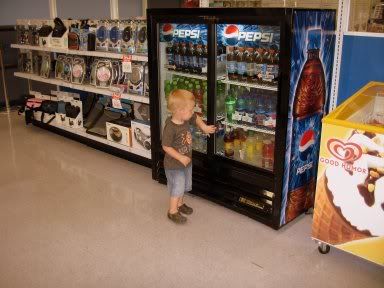 So, yes, Landon got his first real big boy bike complete with training wheels. He helped Daddy put it together last night and has been playing on it ever since. Luckily we have a lot of tile floors in the house so he is doing all of his practice laps through the kitchen and living room! He has not completely gotten the hang of pedaling just yet, but let me tell you this boy LOVES his new bike! I will post pictures in a few days of the assembling and learning process!

Happy Friday (: